Our approach
We are accustomed to working with clients who expect innovative yet pragmatic approches for their people development needs.
To do this we focus on four key development areas…
Understanding me
Helping people to be self-aware and clear about their own strengths, weaknesses and aspirations. Working with them to create targeted goals tailored to their individual development needs.
Understanding the bigger picture
We help people to develop commercial and strategy skills to make good business and career decisions.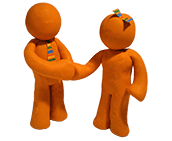 Getting results through others
We give people the skills to effectively manage, motivate and influence others.
Creating a support network
We encourage people to learn with and share best practice with others within and outside their organisation so they can broaden perspectives.
Member resources
The Talent Pool provides members with a unique development programme that includes a varied range of resources such as how-to half-hour video training sessions. Join us today…